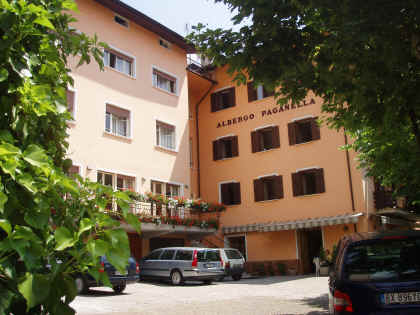 The hotel Paganella Molveno, is a small mountain hotel, located just steps from the shores of Lake Molveno on the Paganella plateau, in Trentino, surrounded by the beautiful Dolomites and surrounded by green forests of Trentino.
The hotel Paganella Molveno is a small 2 star hotel, located in the center of Molveno, in a quiet area, a few steps from the church and from the ski lifts to the Dolomites di Brenta (UNESCO), in Trentino. An excellent starting point for trips, excursions and outdoor activities. In a few minutes drive you can reach the shore of Lake Molveno or, alternatively, you can take the  free town-bus (from the middle of June until the middle of September, more or less).
The hotel Paganella, run by the family for over 60 years Meneghini, offers a simple, comfortable, cozy and very familial atmosphere! What distinguishes us, in fact, is for sure the hospitality that we have always to our clients, making them feel right at home.
The family-run, small size, and our extensive experience, we ensure a careful service and an unforgettable holiday.